January 28 2017
7
28
/

01
/

January
/

2017
15:56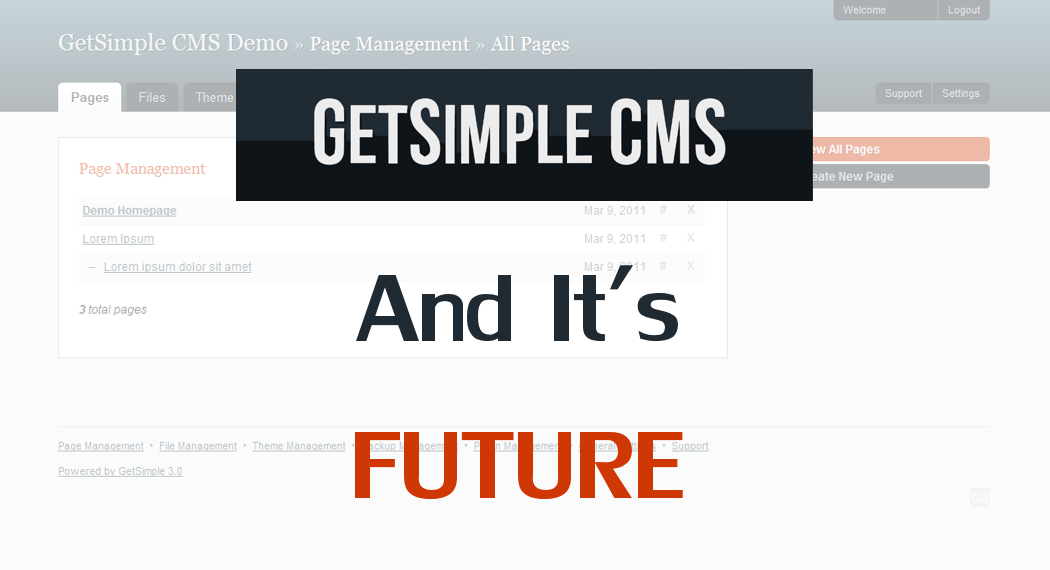 There are many content management systems (CMS) existing. To most famous belong WordPress, Joomla and Typo3. But all of them require an MySQL-database of the server. And above all the installation and the adaptation of the systems to your own needs is quite complex.
As small and technically simple websites are not in need of the major CMS' extensive capabilities, some small, simple programs without database have evolved.
The in my eyes best and simple to use of these is GetSimple (GS).
Why? Because GetSimple is:
Easy to install

easy to use

easy to expand

and easy to personalize.
I have taken a closer look on some "lightweight-CMS". But just when working with GetSimple I really have understood the functionality of content-management-systems.
It's also great that there are many extensions, that generally there is a considerably large and active community, and that the system gets many bugfix- and security-updates.
The 1st time I "stumbled upon" this tool when when researching for simple CMS – and I think this was in 2013. Until I really got into GetSimple was in 2015. But the website for the enlargement of train-line S45 in Vienna I created then I abandoned soon after creation for non-technical reasons.
But in 2017 I really gonna rumble with website-development based onf GetSimple:
1st project is my page as adult-educator at http://www.informationsspezialist.at – the "skeleton" of my site is already available (Status: 28th January 2017). Also a complete redesign of my personel-website, the Lintl-Net, is definitely on my agenda – of course also based on GetSimple.
GetSimple was designed and developed in 2009 by US-american Chris Cagle. Chris in the meantime has withdrawn from the system's development and maintenance. Current lead-developer for some years is Shawn Alverson.
And beside up to now 13 fixes form version 3.3, Shawn just prepares GetSimple 3.4, which should support PHP 5.3. This is very important, because already in 2017 the first major internet-service-providers stop supporting version 5.2. With PHP 5.3 however, hosting would be very well possible for the next few years.
I am worried about the fact, that the last minor-update is 3 years and the last major-update even 6 years ago.
The system is still good, even as good that it was able to convince many new staunch users
in the last 2 years.
A version 3.4 is already planned since 2014. And in 2017 – according to lead-developer Shawn – it should really be published – again at last!.
GetSimple to me is just THE simple CMS of the 2010s years.
But to hold this position also in long term and to keep GetSimple competitive also in the 2020s, there need to come significant improvements and enhancements to this great CMS in the near future.
Significant improvements to the existing system from my point of view could include:
Adaption of the software to new versions of PHP (in mid-term to PHP 7.X, in short-term as intermediate-step maybe to PHP 5.6)

Improvements and expansion of the systems modularity

Interoperability of software, especially in terms of the upcoming massive digital-connectabilty & automated data-exchange (APIs in generel, economy-4.0, headless-CMS, …)

Especially on the next major-release a big focus on compatibility of extensions (given the many and good plug-ins for GS 3.3)
I think that a main-reason for the lack of major improvement-steps is in the last 3 years, is, that at least the majority of the development-work for the core-system solely depends on Shawn and there is hardly no support from the community. At least that's my impression.
So to me the establishment of an association or a foundation should be considered, which could collect money and could assign at least a part of the development as paid jobs.
A good model this approach is the content-management-system Contao. For evolving this there is association in Switzerland, currently including 45 sponsoring-members.
ReactOS also is an example that only easily going on development again can be massively accellerated by establishing an organization with appropiate financial-funding (in the case of ReactOS from Germany and by Russia).
Either way I'm going to intensively work with GetSimple in 2017 and to recommend the system actively. Above that I hope that development gets of the ground again as much, that this great, little content-management-system can me made competitive for the 2020s and that in 10 years I still can say, that it's my favorite CMS.