April 19 2017
4
19
/

04
/

April
/

2017
15:00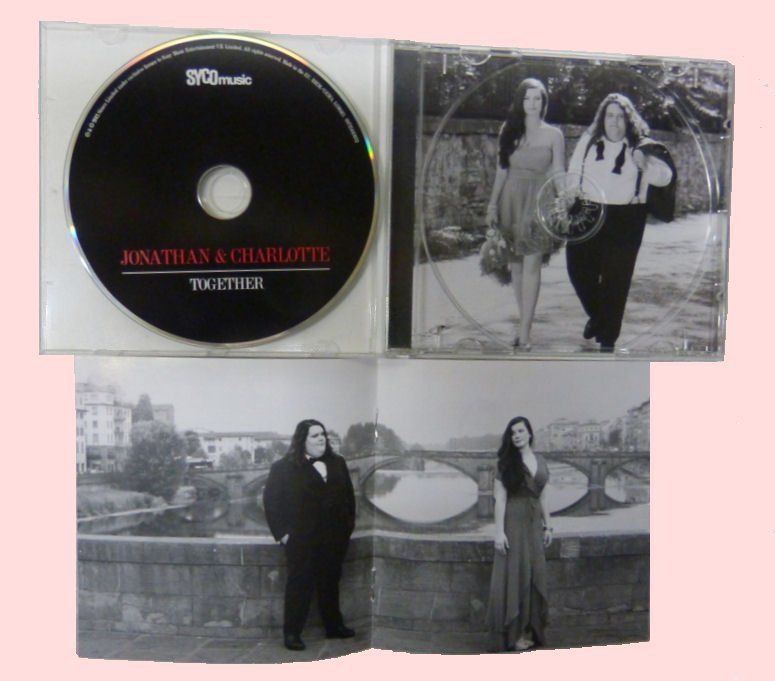 About 4 years ago, in 2013, I stumbled upon the young British popera-duo "Jonathan & Charlotte" (this is Jonathan Antoine and Charlotte Jaconelli). Shortly thereafter I wrote a blog-entry about them.
1 year later, in 2014, the duo broke-up then, whereat I wrote another post.
Both blog-entries have become and still today are big hits, especially the one about the split of Jonathan and Charlotte. At the time, I've promised a CD-review – and now I redeem this promise.
Who is not familiar with the two, should inform himself about them in my former blog-entries. So far only that much: Especially Jonathan has an incredibly good voice and as a duo the two have written casting-show history, because they remained faithful to themselves and to each other even in difficult situations.
The review of "Together"
"Together" is the Duos 1st CD, that appeared in 2012, the year when "Jonathan & Charlotte" made their great break-through in "Britain's Got Talent".
As in the show and the successful songs they presented there, they sing almost everything in Italian.
And the majority of their songs are "italianised" and "classicalised" cover-versions of successful pop-songs.
So let's get into medias res and review every track of the CD indivdually in ascending order:
The Prayer
"THE" classic-track of Jonathan and Charlotte with that they have made their breakthrough at the audition and won the 2nd place in the show's final.
Beautiful song in a very successful version. The voices of the two just do well fit for this song.
And the final touch is the vocal-support of the men's choir "Only boy in a loud", that ranked on 3rd place behind the duo in "Britain's got talent" 2012.


Caruso
For me the best song of the two. In terms of composition very good and tailor-made for Jonathan and Charlotte. Each of them attains top-form and in addition they also perfectly harmonise with each other.


Vero Amore (Cover of Elton John's "Your Song")
Workmanlike very good as well, but I definitely prefers Sir Elton John's original-version.


Ave Maria
A classic of classical-music. Musically very well performed by the two, particularly Jonathan, the songs arrangement to me seems a bit cluttered.


Forse (Unintended-Cover from Muse)
In my eyes (or ears) by far the album's best cover-version. And not only that: I like "Forse" even better than the Muse-original.


Il mondo nostro ("Rule the World" cover from "Take That")
To me less appealing, despite the well-established voices.


Canto della Terra
Also a classic of modern-classic. And from my point of view the best existing version of this song I know, even slightly better than Andrea Bocelli's.


Ognuno Soffer (Cover von "Everybody Hurts" von R.E.M)
I quite like it and value the "classicalisation" suitable and well realised by J. & C.


Chi Mai Vivrà Per Sempre (Queen-Cover of "Who Wants To Live Forever" from the movie "Highlander")
To me very similar to the R.E.M-Cover, pretty good, also because this song is also well suited for a "classicalisation".


La Prima Volta ("The First Time Ever I Saw Your Face", Cover von Robert Flack)
For me the poorest song on this CD. But that depends on the original, which I also disliked white a lot, not on issues of the cover-version. As well as Jonathan and Charlotte, Celine Dion as well could not improve it in her version.
Bottom line
Everyone consindering to buy this CD should clearly understand, that you should like Italian singing and modern-classical music, specifically "classicalisations" of well-known pop-songs.
If this is the case, then "Together" for my part is a flawless recommendation.