June 28 2015
1
28
/

06
/

June
/

2015
16:20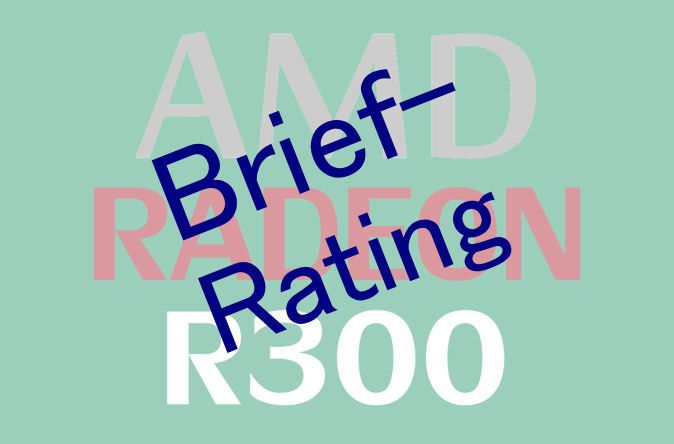 After AMD last week has presented the revised graphics cards of the R3x0-series and this week the all-new FuryX graphics-card, equipped with revolutionary components, the 2015 line-up is almost complete. And since the latest AMD graphics-cards have caused significant fuss in the hardware-scene, to which I briefly took position before the release, so I'm making a short assessment of the new products here after their release.
Let's get straight to the content:
Brief summary to the AMD Radeon R3x0 Line-up
In the presentations run-up there has been a fierce debate, whether the R300 Radeons should be considered a "rebrand" (= pure renaming, in the specific case of the R200 chip) or a "refresh" (with small changes on the chips).
I am turning out more detail below, in my opinion it is something like the "smallest possible refresh".

The chip design is basically identical to its predecessors, but the new cards are a tad faster and tend to be at bit more energy-efficient.

Furthermore, some third-party manufacturers have used the opportunity (of a new products) to improve the PCBs (printed circuit boards) and especially the cooling solutions.

The technical differences to its predecessors are little.
The competitiveness towards Nvidia is slightly improved, but basically the same:

Nvidia scores with a somewhat higher computational-performance and especially with energy-efficiency.

AMD scores with better-value-for-money and the larger number of cards in various performance-segments.
All in all AMD makes a slightly better deal than before. The improvements are only little, so an upgrade from its R200 predecessors makes sense only in exceptional cases.
The new AMD Radeon-Fury family
An eagerly awaited highlight, particularly by AMD-fans, are the new graphics-cards top-models "Fury". These are intended to be the counterpart to NVIDIAs top-models "Titan" and Geforce-980(Ti).
After evaluating several reviews and user-ratings, I'd give the Fury-X school-mark 2 (in Austria 1 = very good, 5 = insufficient).
It's doing well in the tests, but is not able to reach outstanding scores so far. In terms of gaming-performance Fury's benchmarks are in between Nvidia's "normal" Geforce-980 and the Ti-version, mostly closer to the Ti-version.
Particularly noteworthy with the Furys is, that they are carriers of forward-looking technology:
They are the 1st graphics-cards with revolutionary, extremely fast HBM-memory. The top-model "Fury-X" also has a water cooling system. Air-cooled versions, the "normal" "Fury" and the particularly compact "Fury-Nano", are going to follow.
A heavily discussed question in recent weeks was, what exactly distinguishes the R3x0 GPUs from its predecessors. This issue still, even after the launch is controversial and it has cost me some research-work to clarify it. The best listing of the changes is provided by German site golem.de:
An improved manufacturing-process

micro-code updates

a revised power-management

support for newer, better memory chips.
Infos in English about the changes can be found at Anandtech and Hexus.
So now new, very efficient GDDR5 chips by Hynix are supported, which allow 6 GBs transfer-rates even at low 1,35V supply-voltage.
In addition, some third-party manufacturers have improved even their PCBs (circuit/printing-boards) and cooling-solutions.
Just given the controversies, it is however incomprehensible why AMD itself doesn't communicate comprehensive and clear information on the 300-series improvements.
3DCenter.org, another great German hardware-site, estimates that AMD's improvements beyond higher chip- and memory-clocks offer a 1-3% performance increase. So really a very small surplus, but nevertheless a surplus.
My conclusion to AMDs R3x0-Radeons
Usually I am only dealing with certain products that detailed, if I'm going to buy them for myself – what I'm not doing in this case. After having extensively dealt with AMD anyway for my marketing-case-study, of which I just published an English summary recently, so this "launch assessment" of the new Radeons is almost a "by-product".
And just from the overall-view I can understand AMD's strategy spending it's GPU-lineup only a small-update – Fury nominally does not belong to the 300-series.
Sure, many users are disappointed by the little progress. However, even all-new chips based on the current GCN-1.2/1.3 architecture would not have performed much better. Thus the small and cheap solution for now makes sense.
Finally the user gets a minor update of the products, which are definitely more tempting than their predecessors at the same price-points. NVIDIA however also makes really good graphics card and so I'm already sure that there are going to be GPUs of both manufacturers in my next purchase-advice.