April 21 2013
1
21
/

04
/

April
/

2013
21:20
On April 8th 2013 the first and so far only female British Prime Minister Margaret Thatcher died at the age of 87 years.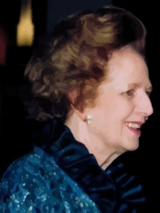 Thatcher has been extremely polarizing already during her incumbency. That even dead she continues going to do so probably is historically unique.
Margaret Thatcher became leader of the British Conservative Party in 1975 and, after they have won the election in 1979, became first female Prime Minister.
What remains in memory of her reign is especially a radical, comprehensive privatization wave especially of public services, a tough stance on trade unions and the Falklands war she has waged against Argentina
The economy in her era has grown as much as unemployment has risen. The slogan of the 2/3-society (say: two-thirds society) has emerged, where 2/3 of the population actively participate in economic life and benefit, while the remaining 1/3 is allowed to exist.
A British blogger has put it, that Thatcher is responsible that he now goes in unpunctual, unclean and unsafe trains.
Despite all the legitimate criticism on a polarizing person, however personal blows below the belt line, as they have happened numerous after Thatcher's death, totally have to be rejected – especially if they are that violently as they have been.
Thatcher has cast out Satan with Beelzebub. It is likely that the Beelzebub of "privatomanic" economic liberalism has been the greater Devil as the Satan of the bureaucratic State socialism.
But even if these recipes were bad, so it clearly has to be stated, that things would not have gone further the way as they have gone until the 1970s, with a very large and very ineffective public sector.
And all those supporters of State dominance at essential, public services – to which I also count myself as one of them – must take one thing to heart:
Public services must be clearly defined and economically efficient - and of course deprived of party politics machinations.
And you absolutely have to mention that especially since Tony Blair has come into power in the 1990s even the Labour Party fully has jumped on the neoliberal train – but has positioned this kind of financial-elite-friendly policies as worker-friendly.
In this respect I, as someone who also is very skeptical towards Thatcher's policies, can fully concur to the "KPÖ-Steiermark's" (Communist Party of Styria) opinion, that "with Margaret Thatcher an – from today's point of view – unusual upright representative for the interests of banks and corporations has died".